09_2009
+++++++++++++++++++++++++++++++++++++++++++++++++++
This piece was hosted by the FIAF gallery in New-York city in 2009. Djeff Regottaz, Bastien Ribeiro, Valère Terrier and myself collaborated on this project that was part of the Visual System (VS) collective. It was made possible with generous support from the Jean-Luc Lagardère Foundation and BNP Paribas. A special thank to Zelda Bensoussan for the logistics.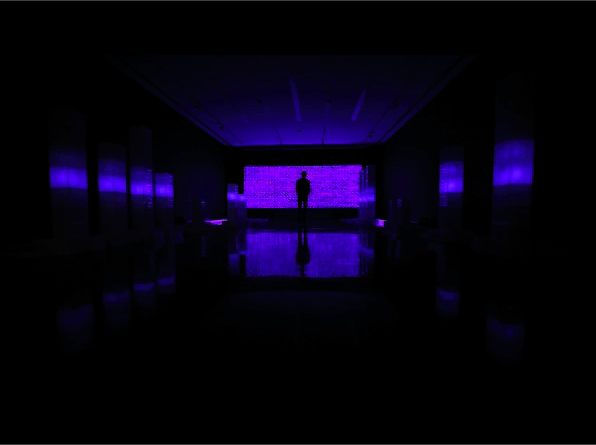 This is an exhibit featuring four different kinds of work directed towards the same conceptual inspiration about the city and thus making one single unique piece.
Valère Terrier presented his piece using led cubes. The organization of colored blinking cubes gives the impression to travel inside a purely abstract city. Bastien Ribeiro enhanced the idea by creating a space on which the visitor can either travel or stay inside some kind of dynamic electronic circuitry. Djeff Regottaz presented his work on which the shadows of the visitors trigger PC fans making them spin with blue light. I made the sound environment for this piece.
Half fixed composed and half generated, the music piece has a beginning and an end in a traditional way. This can sound peculiar for an installation but it was rather important to give the visitor an impression of time. Therefore, making a timeline with the music and the connected blinking cubes forced visitors to freely chose an abstract path inside the installation. This unique time dimension allowed me to transport minds from purely synthetic and complex rhythms to more tribal and physical tunes.
VS's creative process draws together diverse digital artists, whose medium of choice spans image, sound, design, programming, and urban games—while involving the general public in the work, said Tristan de Terves, gallery director at FIAF. We all are able to play a role in dreaming up a new megalopolis.