04_2009
+++++++++++++++++++++++++++++++++++++++++++++++++++
J-Design is now a 12 TV episodes for NHK World. The production is made by Kohprod. Visual artist and musician Philippe Chatelain composed the 3d graphics, Olivier Pasquet did the music.
The Good Design Award has been the hallmark of excellence in Japanese industry for half a century. The functional beauty of the designs also holds up a mirror to the social and economic situation of their times. This series delves into the stories behind those epoch-making designs.
Here were the first 12 episodes:
#012 : Fun ride: TMAX, the 500cc scooter
#011 : Scratch on 1200: SL1200, the record player
#010 : Heavy beauty (Casio G-Shock)
#009 : Funny Buddy (Takara-Tomy i-SOBOT)
#008 : Around a window (Muji Window House)
#007 : Colorful (Komatsu excavator PC50UU)
#006 : Nature around a Pebble (Toto Neorest EX)
#005 : Follow me! (Emergency exit sign)
#004 : Good things, good life (Rattan chair)
#003 : Mechaless, Speed and Fun (Sony Walkman 2)
#002 : Empty body, without body (Yamaha Silent Violin)
#001 : Circle, Triangle and Square (Nikon F)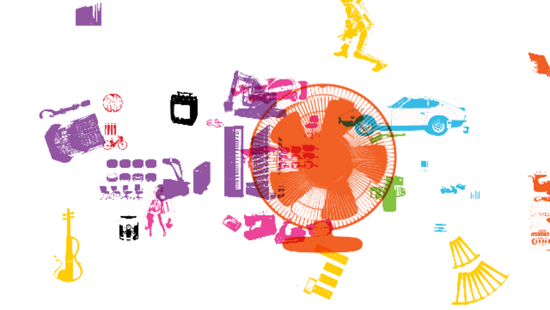 The video and the music are very close to the idea of the show. It is about design, objects. There are several shows and because these objects and their history are described, it also becomes a collection. This collection is represented by the amount and the variety of devices. Something very similar occurs on the video and the sound. The music is oscillating between styles. Especially french touch and something more postmodernist using concatenative synthesis structures. There is a little dedication to l'oeil du cyclone. That was an visionary French tv broadcast far beyond its time in 1991.
2009年4月の放送開始以来、Nikon F、Sony Walkman、TOTO ネオレストなど、日本の生活シーンを創造し、世界へ大きな影響をもたらした製品を取り上げ、世界中の視聴者からの反響を呼んでいます。
◎8月28日・29日・30日に東京ビッグサイトで開かれるイベント「グッドデザインエキスポ2009」会場で、この番組の特別上映が予定されています。