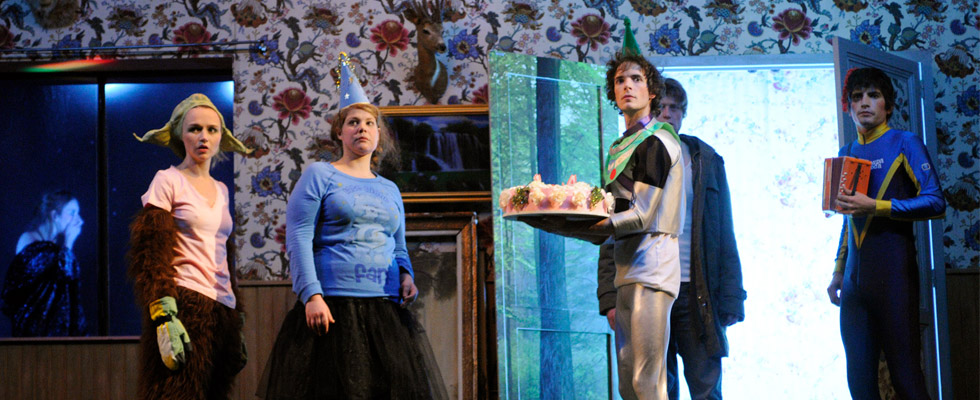 01_2010
+++++++++++++++++++++++++++++++++++++++++++++++++++
Frank Wedekind was the first one to make sexuality a central theme. He speaks about the time when childhood mutates to adult. Questions are concrete. Flowers are there, not fruit. Spring does not spare the character of this "tragedy child" in the heart of the outbreak erotic, some will find the death… In 1891, this jeopardized the puritanism of the Prussian education was a scandal. The piece shows the youth as it is and not as one would like it to be, a youth with his wishes, his instincts… Not a guilty youth and neither innocent. The fact Guillaume Vincent made The Waves from Virginia Woolf's his inaugural gesture in 2004 and also staged Marivaux form Lagarce confirms by his taste for initiation fiction. This strange text, cruel and lyrical, where the issue is tragic, and where sensual enthusiasm and humor are inextricably linked. At the border of the intimacy of the actor and the character, he experiences the friction between himself and the child that was. To find the bubbling and throbbing of the room, he collaborated with composer, Olivier Pasquet, and a choreographer, David Wampach. Wedekind's writing results to a disorder zone between reality and fiction.
with:
Émilie Incerti-Formentini
Florence Janas
Pauline Lorillard
Nicolas Maury
Philippe Orivel
Matthieu Sampeur
Cyril Texier
text from Frank Wedekind (Editions Gallimard).
translation from german – François Regnault
direction – Guillaume Vincent
choreography – David Wampach
music – Olivier Pasquet
dramaturgie – Marion Stoufflet
stage design – Alexandre de Dardel
lights – Nicolas Joubert
clothing – Lucie Durand
puppet – Bérengère Vantusso
stage management – Rémi Papin
sound – Adrien Wernert
Compagnie MidiMinuit, Nouveau Théâtre – Centre dramatique national de Besançon, La Colline – théâtre national, Centre chorégraphique national de Franche-Comté à Belfort, La Comédie de Reims – Centre dramatique national, Centre dramatique régional de Tours, la ville de Marseille
avec la participation artistique du Jeune Théâtre National et de l'ENSATT.
Photos from Elisabteh Carecchio: