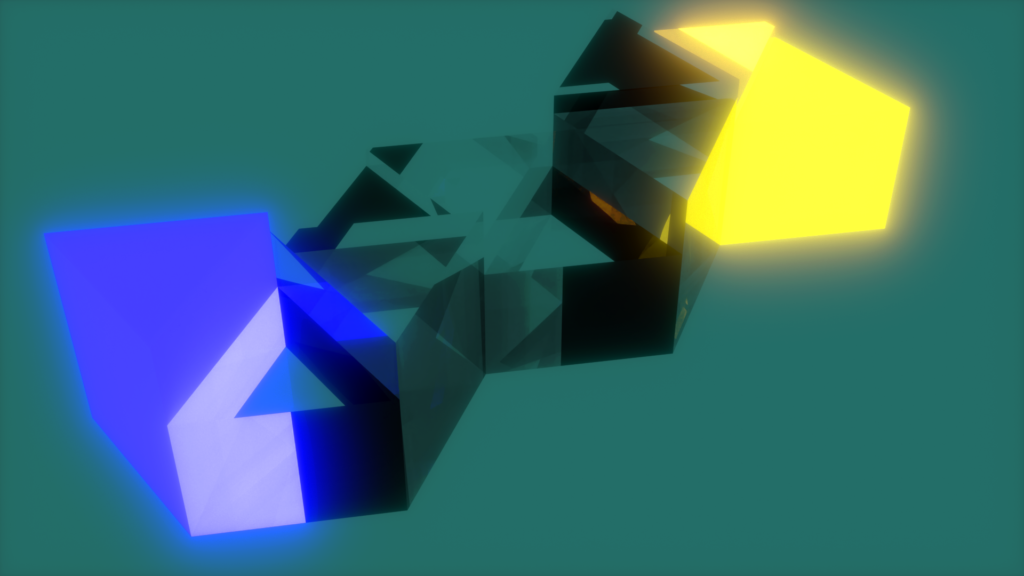 cover for the piece
12_2022
+++++++++++++++++++++++++++++++++++++++++++++++++++
The Nudge is a fully generative piece for synthetic voice and immersive audio environment. A 40 minute possible interpretation was premiered at Sound-Lab from C-Lab on december 9th 2022 onto a 7th-order 49-speakers ambisonic diffusion system.
Thank you to C-Lab and its team for letting me work on one of its ambisonic systems. A special thank to Amy Cheng, Yujie Huang, and ChiaYing Wang from The Cube project space and their great Sonic Shaman festival.
The Nudge is a concept recently used in economics and decision-making where choices are intentionally gently oriented by a strategy, a policy, or politics. Such contextual choices can similarly be determined in a musical form by both artists, the audience, and the artificial intelligence lying in between.
The Nudge is utterly a science-fiction game with its optimism and delusions. It will navigate within the uncanny valley: between expected emotions, clichés, and outside human classicism powered and decided by a machine.
The piece, in pseudo-English is a new step of my voice synthesis engine using VAEs and another "secret sauce". It is a next step from previous pieces Extraordinary Journeys, Principles of the Theory of Wealth, Epic 201757695.02.
Algorithmically paraphrased abstruse, deconstructed, texts from Richard Thaler, Achim Menges, Nello Cristianini, Bruno Latour, Michel Foucault, Jorge Luis Borges, and Stephen Wolfram.
Generated text extract with automatic paraphrasing for the end of the piece. Imagine a micro-rhythmic slow evolution structure underneath.
0154 — How do I decide.
Do I have a choice?
Do I have the choice?
What should I choose? Have I got a choice?
Do I have a choice, and if so, what should I pick?
If so, what should I choose if I have a choice?
If so, which option ought I to pick if I have a choice?
In that case, if I had a choice, which one should I choose?
Which option should I pick if I had a choice in that situation?
If I had a choice in that situation, which course of action should I take?
What would I do if I had the option to do something in that circumstance?
If I had the choice to do something in that situation, what would I do?
What would I do if I had the option to act in that circumstance?
If I had the choice to act in that situation, what would I do?
What would I do if I could choose how to respond to that circumstance?
If I could decide how to react in that situation, what would I do?
What would I do if I had the choice of how to respond to that circumstance?
What would I choose to do in that situation if I had a choice?
If I had a choice, what would I decide to do in that circumstance?
What would I choose to do in that situation, given the option?
Given the choice, what would I decide to do in that circumstance?
What would I choose to do in that situation, if given the chance?
What, if given the chance, would I decide to do in that circumstance?
If I had the choice, what would I choose to do in that situation?
What would I decide to do in that circumstance, if I had a choice?
If I had a choice, what would I choose to do in that situation?
What would I decide to do if I had a choice in that circumstance?
If I had a choice in that situation, what would I choose to do?
What would I do in that situation if I had a choice?
If I had the option, how would I respond to that circumstance?
What kind of reaction would I make to that situation if I had the choice?
If I had the option, how would I respond to that circumstance?
What kind of reaction would I make to that situation if I had the choice?
If I had the option, how would I respond to that predicament?
_FADE OUT_
Do I have a choice, and if so, what should I pick?
If so, which option should I choose if I do have a choice?
If so, what should I decide if I have a choice?
If so, which decision should I make if I have a choice?
Which one should I pick if I had the option in that case?
If I had a choice in that situation, which course of action should I take?
Which course of action ought I to choose if I had a choice in that circumstance?
What would I do in that situation if I had the choice to do something?
What would I do if I could choose to in that circumstance?
If I had the choice to do something in that situation, what would I do?
What would I do in that circumstance if I had the option to do something?
What would I do if I could decide how to react to that situation?
What would I do in that circumstance if I could choose how to respond?
If I had the option to decide how to react in that situation, what would I do?
If I could choose, what would I do in that circumstance?
What would I choose to do in that situation if I had a choice?
Given the choice in that circumstance, what would I decide to do?
If I had a choice in the matter, what would I choose to do?
If I had the choice, what would I choose to do in that circumstance?
What, if given the choice, would I choose to do in that situation?
What would I decide to do in that circumstance, if I had a choice?
If I had a choice, what would I choose to do in that situation?
What would I decide to do in that circumstance if I had a choice?
If I had a choice in that situation, what would I choose to do?
What would I decide to do if I had a choice in that circumstance?
What would I choose to do if I had a choice in that circumstance?
How would I react to that situation if I had the choice?
If I had the option, what response would I have to that circumstance?
What would I do in that situation if I had the choice?
If I had the option, how would I respond to that circumstance?
How would I respond to that situation if I had the choice?
_FADE OUT_