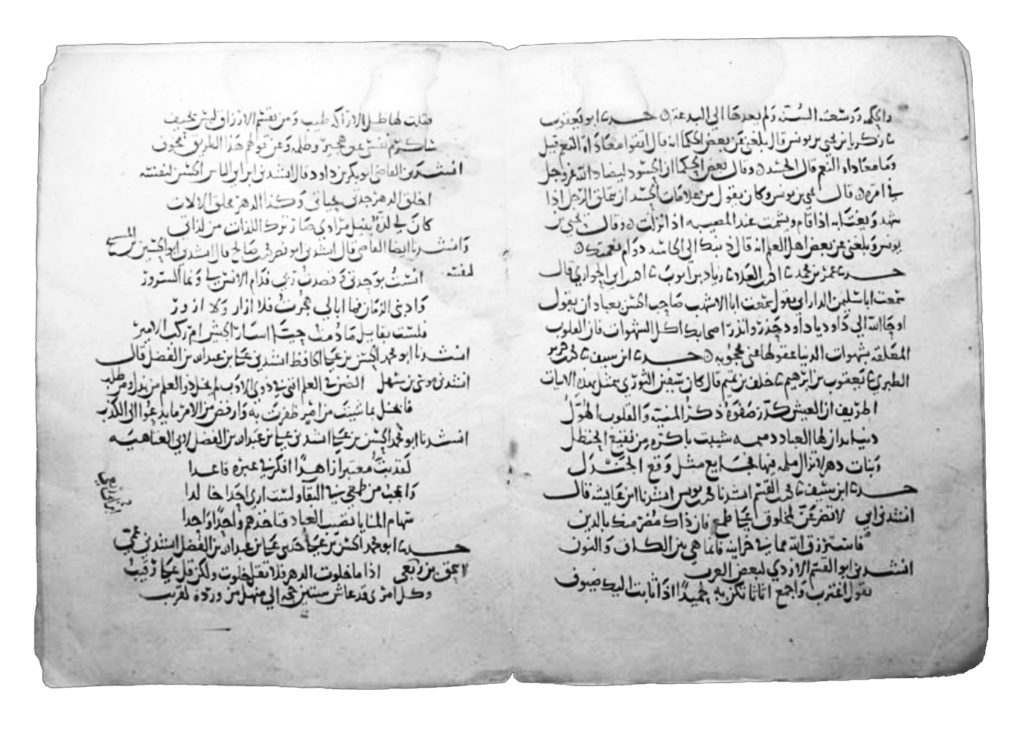 abbasid manuscript of the 1001 nights
09_2019
+++++++++++++++++++++++++++++++++++++++++++++++++++
One thousand and one nights: "one of the most beautiful titles in the world," writes Borges. The contents can be summarized as follows: "A king is betrayed by his wife, he decapitates her; henceforth, he will marry every day a new girl whom he will deflower and execute that very morning. Scheherazade saves her head by starting a story she interrupts as the day approaches. The king gives him his life, he wants to know more, so the stories are linked without interruption for a thousand and one nights ". The thousand and one nights are therefore a work on a blade. The thread of a story in which each episode is a pearl – and there are several hundred, ranging from the marvelous to the scabrous, from the frankly glaucous to the quasi-vaudeville. Razor's thread, for the pleasure of storytelling is here a vital necessity: that Scheherazade cease to please, and his voice will be silent forever. The thread of a labyrinth, marrying the inextricable meanders of desire and death. It is the occasion of a free scenic voyage between East and West, with no other goal than to get lost between the "real and fantasized universes", in search of another world where peace would finally be found. "The thousand and one nights" or "how the power of fiction is able to stop barbarism".

with:
alann baillet
florian baron
moustafa benaïbout
lucie ben dû
hanaa bouab
andréa el azan
émilie incerti formentini
florence janas
kyoko takenaka
makita samba
charles-henri wolff

director: guillaume vincent
dramaturgy: marion stoufflet
stage design: françois gauthier-lafaye
stage design collaboration: pierre-guilhem coste
light: césar godefroy
light collaboration: hugo hamman
sound: sarah meunier-schoenacker
costumes: lucie ben dû
musical composition: olivier pasquet

production midiminuit company, odéon-théâtre de l'europe, théâtre de lorient-cdn, tnb-european center for dance and theatre, malraux chambery savoie national center, national center of albi, caen theatre, caen comedy, cdn normandy, nothern theatre, cdn lille tourcoin, amiens cultural house, le cratère national center of alès, la filature national center of mulhouse, le parvis national center tarbes-pyrénées, le quartz national center brest.
with support of national reims comedy, la chartreuse avignon – national center for writing, t2g – cdn of gennevilliers, french institute of egypt in cairo.
The following extract is an actual piece. It is also a work in progress as of july 24 2019 for that specific theatre piece. The piece was composed from recordings of florian baron playing oud, kaval and buzuq. The voice of florian baron is sometimes heard in the recording and that is intended, giving a sense of reality even though the piece is synthetic. The piece makes use of the rhythmic jtol library in conjunction with ben hackbarth's super brilliant concatenative audioguide synthesis.
The following extract is a generative formalization experiment rendered with modal string physical models (modalys). They play microtonal, up and down, modes such as rast, hijaz and buslik. A special thank you for the composer fawaz bakker who spent his precious time explaining me those modes.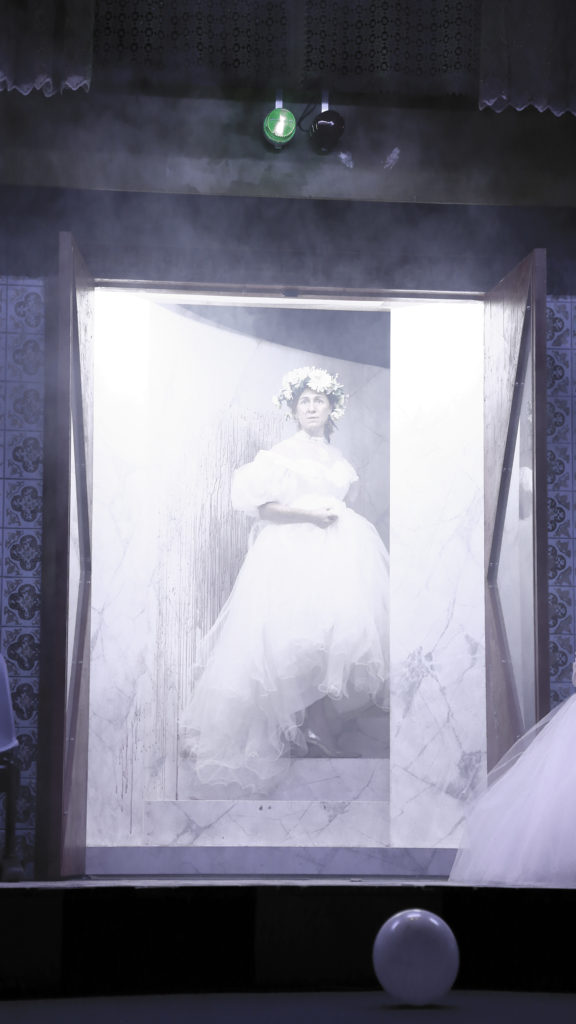 lucie ben dû climbing bloody stairs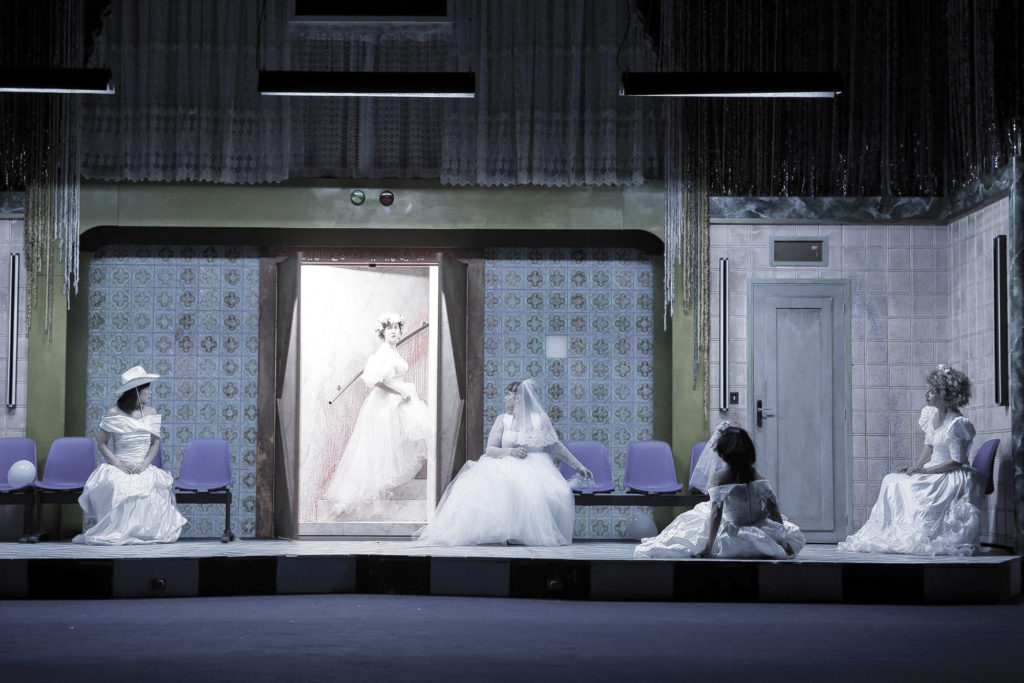 some of the horrified wives in the set for the opening part
This audio extract comes from the opening of the piece; the most choreographic one with those horrified wives: